We could use your help - where in the world were these images taken? 
Please contact us HERE if you have information leading to their identity!
Going Deep: In Photographic Sleuthing (Part 3), the adventure goes deep into hard to locate territory. Let us first sharpen our collective teeth on these easier ones.
In Photographic Sleuthing (Part 1) we introduced the question of When, Where, What, and Who of a set of deteriorating Lantern Slides, along with a set of six images that have been identified in spite of the destructive and historical changes over the past nearly one hundred years.
In this Photographic Sleuthing (Part 2) we will look at six images that need identification via the sleuthing expertise from the the world wide web of image detectives. Five of these images are locations, the sixth is an exercise in identifying historic personages. We honestly have no idea where in the world these images were taken. Europe is our best guess, but not good enough.
The first two of this image set are unique buildings and city scapes – easily identified if you know what you are looking at. Both have clues as to their location, neither have any dead giveaways other than uniqueness of their architecture and surrounds, and the L/R orientation is up for question.
Image 63: Downtown
The L/R orientation appears correct based on careful squinting at the suit coat of the male pedestrian - fashioned left over right would be correct. The woman behind his appears to have her coat fastened right over left as is the fashion for women's clothing.
Trolly lines indicate a substantial city
Church in the background at the end of the street with a unique steeple arrangement
Unique lamppost design on the main street and a different design on the right hand cross street
Unique four-pointed buildings opposite each other mid-image
Two long lines of unreadable text on the street sign attached to the right hand lamppost might indicate language
Update: 02/25/2019 – Many thanks to sleuthng experts Lisa and Sean!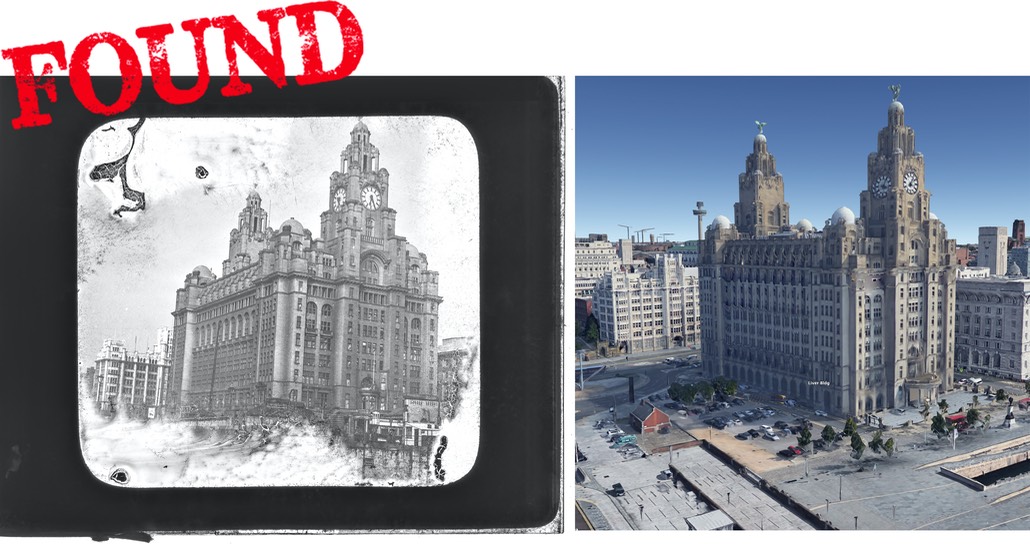 Image 30: Clock Building
Image: Liver Building, Liverpool, England
— Liverpool, England, Royal Liver Building, with look-out tower pointing toward New Brighton and out over the Irish Sea and the Isle of Man
The building itself is of a unique architecture
The clock does not have numeration indicating L/R orientation 
Kissing couple to the right of the look-out tower, but no indication of how their coats are fastened to indicate L/R orientation
Man to the left of the look-out tower doing/holding something in his left arm, but could be his right arm as there is no indication of L/R orientation
There is a look out tower! Why is there a look out tower?
Lampposts are of a nondescript style
Both of the billboards, far left and far right, have steamship themes which might indicate a port city
The appearance of waves crashing over the sidewalk is most likely deterioration of the gelatin image emulsion, but would be nifty if it were actually water, and why is there a look out tower!?
These next two third and fourth images are boating cityscapes. As with the first two, these have a few clues as to their locations, easily identifiable if you know the identity of the clues. The L/R orientation is understood based on the limited signage visible.
Image 148: Small Dock Area
The words HOTEL and RESTAURANT on the side of the left hand building indicate correct L/R orientation of the image
Unique style of the small ferry boats
The two church or cathedral steeples in the background, with the front steeple being quite identifiable if you know where it is
A third steeple peeking out just to the right and above the HOTEL building
Image 25: Larger Ferry Boat Area
A slow day in the neighborhood with a single somebody on the steps, a worker on the small boat next to the ferry, and no passengers em/de-barking the ferries
The label on the ferry looks to read M. F. T. R.
Distant mountains on the left and flatland on the right indicate geography
The distinguishable bridge(s) in the background will likely be the tell of this image
Image 13: Crowded Market
The fifth location is a bit harder - not much identifiable except for the situation itself where even the L/R orientation is unclear. Limited clues in this one so creative sleuthwork is needed.
L/R orientation might be correct given a long hard squint at the man's vest buttons (L over R)
Cross body sling bags tended to be left shoulder to right hip, indicating this might be the correct L/R orientation
This is a street market situation
The buildings do not have balconies or escape ladders, indicating this is not New York's Little Italy
The pillared officiate looking building at middle left may be the tell of where this photo was taken
Avenue has a long curve to the left in the distance, perhaps making this image location more manageable
There is more going on with this crowd than just shopping for fruits and vegetables
Image 51: Motorcade
This sixth image of the motorcade is a fun one. The personages appear interesting based on their situation, Other than in the UK, the location of the photograph will likely never be known
This is a Midland Red tour bus company motorcade
Vehicles are Tilling-Stevens PetroElectric TS3 Tillotson Ch32 Charabanc, early 1920's based on their solid tires
The US & UK country flags indicate a dignitary motorcade procession
The distribution of bus passengers indicate each bus is occupied by a specific dignitary and his lieutenants / security detail
United States President? Vice President? Ambassador? Senators or Congressmen? Business leaders?
The men in the front of the first carriage look like folks you don't mess with
The man in the light suit / light hat in the first carriage looks like a guy in charge, but who?
012/25/2019 Update with plate history of these vehicles: From MidlandRed.net
OE 7302

?/1920–?/1926 New (?/15) to War Office with WD Tilling Tilt Van bodywork (B.40). Passed to Birmingham & Midland Motor OC Ltd. (Midland "Red"), Smethwick (?/20). Fitted (?/20) with Ch32 Kilner and Brookes bodywork (C.4). Reregistered (?/20) OE 7302. Withdrawn (?/26). Scrapped (3/26).
OE 7305

?/1920–?/1926 New (?/15) to War Office with WD Tilling Tilt Van bodywork (B.43). Passed to Birmingham & Midland Motor OC Ltd. (Midland "Red"), Smethwick (?/20). Fitted (?/20) with Ch32 Scottish MT bodywork (C.8). Reregistered (?/20) OE 7305. Withdrawn (?/26). Scrapped (4/26).
OE 1132

?/1919–?/1926 New (?/19) as type TS3 to Birmingham & Midland Motor OC Ltd. (Midland "Red"), Smethwick with B29F Brush bodywork (BB.136). To service (?/19). Fitted (?/19) with Ch32 Morecambe bodywork (C.3). Withdrawn (?/26). Scrapped (6/26).